Get Back to the Activities You Love, Faster
Joint replacement surgery used to mean spending the better part of a week lying in a hospital bed, and going home with an expensive bill. But patients in the Cedar Rapids area have a better choice.
Surgery Center Cedar Rapids and Physicians' Clinic of Iowa offer the area's only same-day total joint replacement surgery for shoulders, hips and knees. This innovative outpatient procedure represents the greatest advancement in total joint surgeries in over 15 years. PCI's orthopedics department provides expert surgeons and staff and Surgery Center facilities serve as a safe, non-hospital option for patients who are healthy enough for the procedure.
Ed Abodeely underwent a same-day total knee replacement surgery. Watch his story.
If You Can't Ignore a Painful Joint, Then Don't Ignore These Facts
Traditional Joint Replacement Surgery
Same-Day Joint Replacement Surgery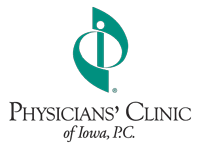 A collaboration between PCI and Surgery Center Cedar Rapids.
Contact PCI's orthopedic unit at (319) 398-1545 to find out if you are a candidate for same-day total joint replacement.